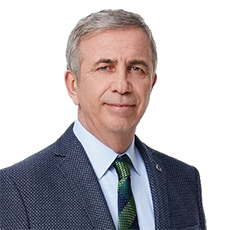 Mayor of Ankara Metropolitan Municipality
Mansur Yavaş
He was born in 1955 in Beypazarı. He finished primary and high school in Beypazarı and then he graduated from the Faculty of Law of İstanbul Univercity in 1983.
He was a military prosector when he was a soldier. After his military service he worked as a lawyer in Beypazarı for 13 years.
He was also a municipal councilor from 1989 to 1994. Then he became as a mayor of candidate in1994 in Beypazarı . In 1999 he was elected as a Mayor of Beypazarı by getting the votes of 51% in municipal elections. He increased his votes to 55% in the elections of 18 April 2004 and he became as the Mayor of Beypazarı for the second time.
Mansur Yavaş attracted the attentions as a mayor candidate in local elections in March 2009 by getting the votes of 27% in Ankara Metropolitan Municipality. He run for the local elections of 2004 from the political party of Cumhuriyet Halk Party (CHP) by getting the votes of 43.83%.
He worked in the field of saving Turkish language and he was awarded with the honor prize of Turkish Language Institution(TDK). He was elected as "Mayor of the Year" by TÜSİAV.
The Mayor of Ankara Metropolitan Municipality, Mansur Yavaş, who was known as the architect of "the Beypazarı Model" was started the social municipality approach and he was supported by the universities, the public and the non-governmental organizations . After the election of Beypazarı for the second time he organized international festivals and banquets presented the local dishes, restorated the historical places and increased the capacity of accommodation to develop the tourism sector in Beypazarı and also in capital city . So he achieved sustainable employment in the region.
Mansur Yavaş was elected as the Ankara Metropolitan Municipality Mayor with 50.93 percent of the votes in the 31 March 2019 local elections. He is married and has two children.